In our current era of solid-state technology it is important to remember the roots of electronics that unequivocally led to the commercialization of broadcasting music and television. These "vintage" components have been essential in shrinking our world in regards to the field of electronics, sound reproduction & broadcasting. In essence, without the invention of the vacuum tube the art of sound design, live performance, recording arts and amplification would exist in a still primitive and energy consuming form. On another tiki-related note, these cylinders have transmitted loads of lounge music to our ears, plenty of Polynesian pictures via televised signal, and a multitude of happy hour tiki drink special bar advertisements over the airwaves during our commutes home! I'm not sure if people like Nikola Tesla or Thomas Edison were ever lucky enough to be a part of tiki culture, but I know for a fact that they all had essential roles that had a profound impact on the development of sound transmission and creation.
Although many of the failures of vacuum tubes, CRT's and the like led to it's eventual replacement in virtually all systems one can still find a use for the antique, steampunk-like devices. I'm not just speaking of vacuum nanoelectronics either. Artists around the world have begun collecting, refinishing, and refining these tubes into works of art, jewelry, and collectibles. Below are a few examples and inks to some of my favorite vendors and artists.
Of particular interest to me as a sound designer and musician is a company called ElectronLuv operated by Josh Stippich. Using a combination of analog technologies and utilizing tubes, components and circuits ElectronLuv fashions working amplifiers, preamplifiers, guitar amps, speakers, and more. The products are unparalleled in their reproduction of sound but even more intriguing is the presentation. These devices come off not only as great sound tools but works of art. Stippich's passion is founded in years of dreaming and listening and it's apparent: his creations are "the stuff dreams are made of" and worthy of a visit to his site.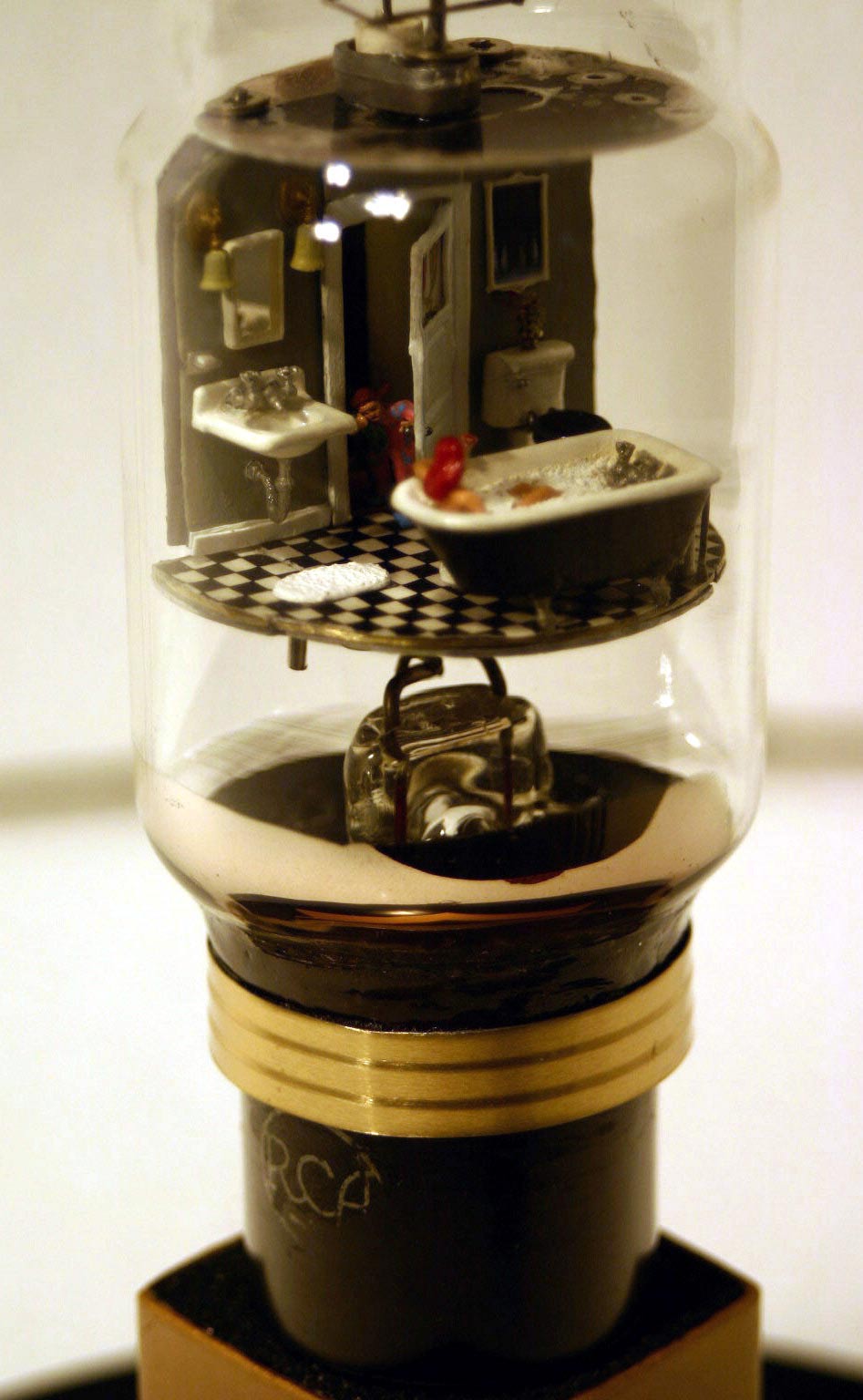 I stumbled across a fantastic artist that I call "El TubeStuffer" because it's just so fitting! His name is Peter and he utilizes tubes and then stuffs them with works of art. Peter A. Luber sculpts miniatures, few of which are larger than 8 inches tall. What began as a weekend hobby to escape the confines of corporate America has now evolved into an artistic representation of his life as viewed through the shell of tiny vacuum tubes. The sculptures inside of these vintage radio and television components are very creative and it appears that he utilizes some of the old components at times. This guy is fascinated by vacuum tube technology (or is just appreciative of the images and sounds they have given us in the past) and it is evident not only in his use of them as a medium, but visually represented in paintings, posters, and key chains!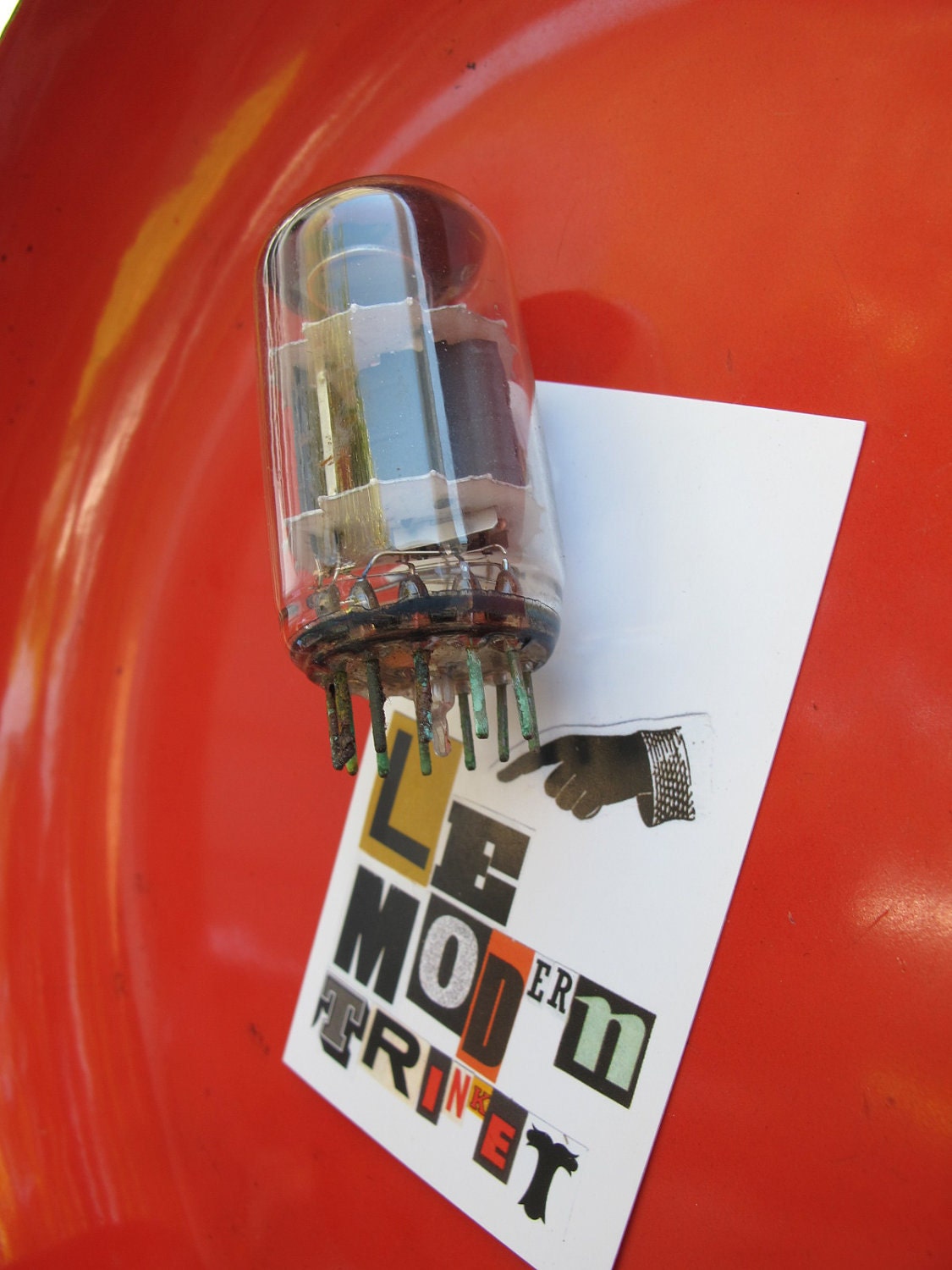 Finally, if there's a special place in your heart for the fez then you'll need to grab one of the Vacuum Tube Fez offerings from this awesome site! Not only is this brand comfortable and high-quality, but the image will make it look like you never stop thinking. Who knows? You could be the next Nikola Tesla despite the fact that you are spending all your time at the Mai-Kai imbibing on celebrity-style cocktails!